I'm glad I found this community! I stumbled onto the concept of letterboxing a few months ago, while I was home on my maternity leave, and immediately knew that I wanted to do this with my family, once my son got a bit older. He's 6 months now, and my husband & I brought him on his first quest this past weekend. We went to the Appleton Farms Grass Rides in Hamilton, and followed the clues for the Green Dogs letterbox. The weather was absolutely perfect -- warm & sunny, but not too hot. Nice breeze to chase the bugs away. The trails were wide and easy to follow. We settled the little guy into a back carrier, applied a baby-safe insect repellent & plopped his sunhat on his head, and started out.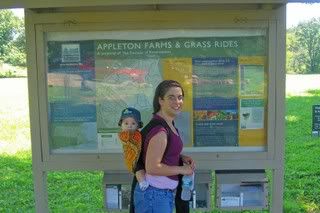 A gorgeous maple-lined alley, bordered by fields on both sides.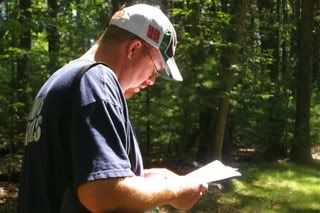 Double-checking the clues...




One of the landmarks: a "Whomping Willow"
Well, not really...but I'd like to imagine so.




We crossed an old stone & earth bridge over the wetlands -- another landmark!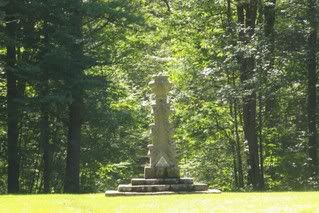 A large, granite pinnacle, salvaged from the demolition of Gore Hall
(the former Harvard College Library), stood alone in a silent clearing.




After reading & rereading the final clues, Colby & I took turns
trying to find the box. One of us would search through he leaves,
while the other would stay clear w/ Sean (the mosquitoes
were ferocious in the wet leaves!) Colby finally uncovered the box!




Pulling out the stamp & logbook --
it had been located by quite a few previous questers!




Our contribution to the logbook.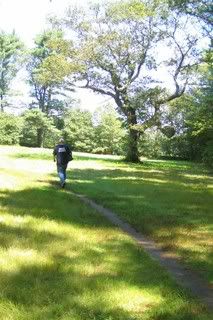 Heading back to the car.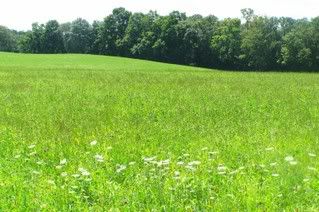 We really enjoyed this experience! The location was so
beautiful & peaceful, and the questing was a fun way to
explore the property. Once we got home, I played around a bit online,
and discovered that theres a second, seperate quest located
at this same property: the Pinnacle Quest, which was planted
by the Trustees of Reservations. So...we're going back really soon!